12 Volt Off-Grid Inverter Systems – 4 panel (100w)
PREWIRED POWER CENTER
Features
12 VOLT COTEK 1200W Inverter
4 New Powa 180w 36 cell Mono Panels 720 W ARRAY
1 Midnite Classic Mppt Chg Controller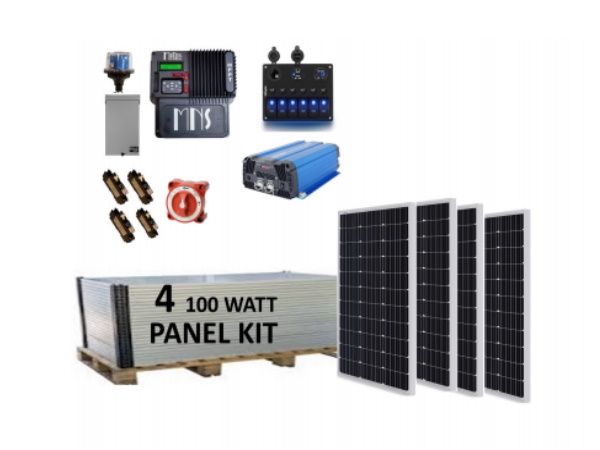 SOLAR POWER DAILY POWER PRODUCTION
ESTIMATE

SYSTEM DESCRIPTION
Add some of the comforts of home at your weekend cabin with an expandable off-grid solar system that includes 4New Powa 180W Silver Mono 12 Volt Panels.
With the 1200W Cotek Inverter This system will run:
• a small refrigerator
• stereo
• laptop computer
• cell phone charger
• lights
• TV
• Water Pump
With the MidNite Classic 150 Chg Controller you can expand this system to 9 solar panels.
The Inverter has an "AC IN" port to take AC power from the Generator to assist with keeping loads powered and Batteries
charged.
To Minimize Generator use with this size system one needs to use conscious conservation of energy.
Sized for a Small Weekend Cabin and able to produce 72kW (+/-) daily or up to 90kW-h each month in summer.
This system will provide pure sine wave AC power to your appliances .
A key to ensuring you have power with this size array is to size your battery bank properly.
We can help, call for assistance. 989-737-4078.
1 Cotek Pure Sine 1200W Inverter SC 1200
1 MidNite Classic MPPT Charge controller
4 180 watt solar panels 36 cell
1 Cotek remote CR-20C controller
1 Blue Sea Battery Disconnect
1 Blue Sea Mega Fuse holder
1 300 Amp fuse
1 babybox breaker box
3 DC breakers
2 2 50' #10 PV wire w MC 4 Extensions
2 Battery Connection Cables (2) 10'ea 1 black 1 red
1 Panel Assembly
0 Unirac roof racking
0 Trojan L16E 6 Volt battery 370 Amp hr