48 Volt Off-Grid Inverter Systems – 15 panel
PRE-WIRED POWER CENTER
Features
48 Volt Schneider 4048SW 120/240 Inverter
Trina 320 Watt 120 Cell Mono Panels 1920W Array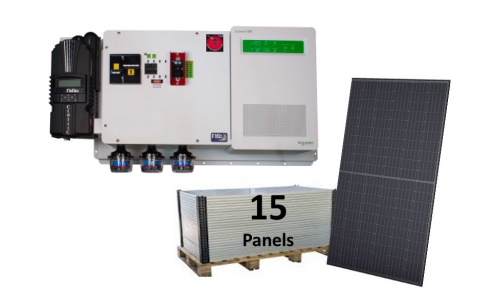 SOLAR POWER DAILY POWER PRODUCTION
ESTIMATE

4,800 Watt (4.8kW)
SOLAR ARRAY
$9,953.40
Sized for a Small to medium home or cabin and able to produce 27kW-h daily or up to 821kW-h each month in summer this system will provide pure sine-wave AC power to you appliances including:
• Refrigerator
• Well pump
• Microwave
• Television
• Freezer
• Lights
• Washer & gas dryer
• Furnace blower fan
• Power tools
• Computers
And more
SYSTEM DESCRIPTION
Conext SW4048
This off-grid or battery backup inverter will deliver 3,400 Watts of pure sine-wave power at 120/240VAC making it great for homes or cabins. Schneider's line of SW inverters have built-in chargers to keep your battery bank charged from a generator or other AC power source in the event of insufficient solar. The SW line of inverters are a great value, with an impressive list of features and sell for hundreds less than the competition.
120/240 Volt AC power
This off-grid inverter will deliver full power to a 120/240 Volt breaker panel without the need for an additional external transformer. For additional information please see the spec sheet and
user manual or call one of our sales technicians at 1-989-737-4078.
Advanced Grid Features
The Conext SW inverters incorporate advanced features for modern grid-connected systems. The Conext SW inverters are consumption ready with the ability to prioritize solar consumption
over grid, while maintaining zero grid export. The Conext SW can work with the grid to avoid peak utility charges and support the grid when utility supply is limited.
SOLAR CHARGER MIDNITE CLASSIC
• MidNite Classic 150 MPPT charge controller 
• Simple, safe installation 
• MidNite Whiz Bang battery monitor provides percent state of charge via the Classic display screen 
• Color coded and labelled buss bars for all connections 
• Fully assembled and tested by experienced technicians 
Generator Capability /Option if Chosen:
Pre-wired Generac Generator w/Auto Start Option In the event of insufficient sunlight and low battery voltage. The generator will auto start, feed loads while charging batteries and shut off when batteries are full. Call Suntec Wind & Solar for more details.
1 Schneider 4048 SW 120/240VAC Inverter
1 MidNite Classic 150 Sl Mppt charge controller
15 Trina 320W 120 cell Mono
1 Schneider system control module
1 Blue Sea Battery Disconnect
1 Blue Sea Mega Fuse holder
1 MNPV 6 Combiner Box
1 300 Amp fuse
1 big babybox breaker box
7 DC breakers
1 100 feet #10 PV wire 50′ red 50′ black w/mc4's
15 Unirac roof racking
1 Panel Assembly
2 Two 12′ Battery Connection Cables 1 red 1 black
2 DC Surge Protectors
1 MidNite Solar Waterproof 2 hole Strain Relief
1 1/2″ Strain Relief w/ 1 Hole for #10 or #12 wire