PRE-WIRED POWER CENTER
Features
MS4448PAE Dual Magnum w/ 2 Classic 150s Power Center
Trina 320 Watt 120 Cell Mono Panels 7,680W Array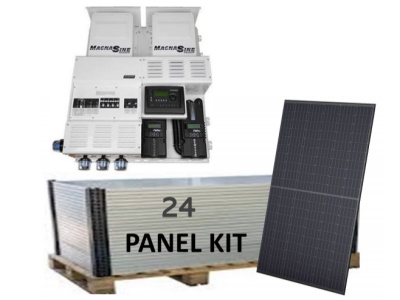 Note: Prices subject to change with products availability
SOLAR POWER DAILY POWER PRODUCTION
ESTIMATE
7,680 Watt (7.68 kW)
SOLAR ARRAY
$19,187.70
SYSTEM OVERVIEW
The Duel Magnum Power center has ability to put out up to 8,000 plus Watts of power.The dual Magnum is 32″ wide and 40″ tall. The unit is 9″ deep when wall mounted. This off-grid power systems includes the essential components to get started living off the grid, allowing you to enjoy all the comforts of home with normal AC appliances no matter where your property is located. The appliances below are easily powered by this system.
• Refrigerator
• Well pump
• Microwave
• Television
• Freezer
• Lights
• Washer & gas dryer
• Furnace blower fan
• Power tools
• Computers
SYSTEM DESCRIPTION
Sun Tec Wind & Solar's pre-wired and tested Magnum MS4448PAE/2 Dual Inverter Power Center comes equipped with two Magnum Energy MS4448PAE 120/240 sine-wave inverters and 2 MidNite Classic 150 Charge Controllers. Mounted on a Magnum MBP-D double back plate, its sophisticated ME-RTR router organizes your connections and allows you to access information on each individual inverter. A Magnum Energy BMK battery monitor is included in this package, so you can keep an eye on your batteries' performance.
The dual Magnum is 32″ wide and 40″ tall. The unit is 9″ deep when wall mounted.
Since we have already assembled and tested this system, you will significantly save on time and/or labor costs it takes to put a system like this together. The cost of the components, when bought in a package, is also significantly lower. And because the MS Series inverters in this system are installed with a Magnum Energy panel and mounting plate, they carry a five-year warranty, rather than the standard three-year warranty.
f1 Magnum Duel Power 4448 X 2 120/240V AC Inverter
2 MidNite Classic 150 Sl Mppt charge controller
24 Trina 320W 120 cell Mono
1 Schneider system control module
1 Blue Sea Battery Disconnect
1 Blue Sea Mega Fuse holder
2 MNPV 6 Combiner Box
1 300 Amp fuse
1 big babybox breaker box
10 DC breakers
1 100 feet #10 PV wire 50′ red 50′ black w/mc4's
24 Unirac roof racking
1 Panel Assembly
2 Two 12′ Battery Connection Cables 1red 1 black
2 DC Surge Protectors
4 MidNite Solar Waterproof 2 hole Strain Relief
4 1/2″ Strain Relief w/ 1 Hole for #10 or #12 wire
1 Wiring Diagram and fast access to our staff