450 Watt Phono Twin Plus Series Solar Panel
144 1/2 Cells BoW Monocrystalline Perc
The Phono Solar 450 watt monocrystalline PERC XL solar panel delivers high power output and performance at an attractive low price. This Phono solar panel is made up of 144 monocrystalline half-cells on a white backsheet with a silver anodized aluminum alloy frame. Certified for the most challenging environmental conditions, the Phono Solar 400 watt module with stands 5400 Pa snow load. This high-power monocrystalline solar panel operates at 20.58% efficiency to maximize the light absorption area. 370 W power output
Features Include:
Outstanding Product Performance – Competitive high-temperature performance with ameliorated temperature coefficient
Trustworthy Quality & Reliability – Guaranteed 0~+5W positive tolerance secures reliable power output
PID Resistant – Industry-leading cell processing technology and electrical design ensure solid PID resistance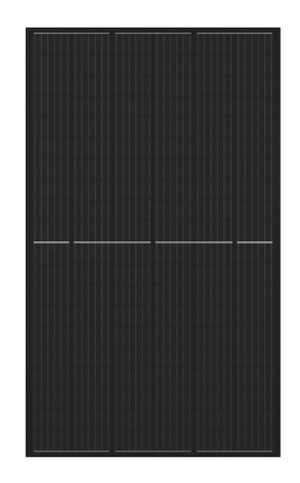 The Phono Solar 450w solar panel is ideal for grid-tied commercial and residential solar panel systems. Make your own power at home with this low priced solar panel. UL Certified, CEC approved, and backed by a 12-year product warranty plus a 25-year power output warranty gives peace of mind.
| | |
| --- | --- |
| Cell Type | Monocrystalline |
| Dimensions | 2,103 x 1,040 x 35 mm |
| (LxWxH) | 82.79 x 40.94 x 1.38 in |
| Weight | 25.0 kg/55.12 lbs |
| Front Glass | 3.2 mm Toughened Glass |
| Frame | Anodized Aluminum Alloy |
| Cable | 4 mm(squared)(IEC), Length: 350mm (vertical), 1,250 mm (horizontal) or Customized Length |
| Junction Box | IP 68 Rated |
| | |
| --- | --- |
| Testing Conditions | STC |
| Rated Power (Pmpp) | 450 |
| Rated Current (Impp) | 10.87 |
| Rated Voltage (Vmpp) | 41.40 |
| Short Circuit Current (Isc) | 11.38 |
| Open Circuit Voltage (Voc) | 49.24 |
| Module Efficiency % | 20.58 |
| Frame Color | black |
| Dimensions LxWxH | 69.09 × 40.87 × 1.38 in |
| Weight | 44.75 |