RESIDENTIAL LFP LITHIUM BATTERY UNIT
5 Module
24 KWh Bank Depicted above
$14,305
Easily expandable!!
Just add a module to increase storage 4.8kw
The base unit requires a minimum of 2 modules for 9.6KWh or 9,600 watts of storage power.
Cost for the 9.6KWh is $6,489.
Each additional stack module is an additional 4.8 KWh of storage power for $2,715.
Estimated shipping for a four unit module kit with base is $622.
3 Module 14.4 kWh Lithium Iron Stack'd Battery Storage $9,204
| | | |
| --- | --- | --- |
| 9.6 KWh | $6489 | 2 modules |
| 14.4 KWh | $9,204 | 3 modules |
| 19.2 KWh | $11,634 | 4 modules |
| 24.0 KWh | $14,205 | 5 modules |
| 28.8 KWh | $16,778 | 6 modules |
| 33.6 KWh | $19,349 | 7 modules |
| 38.4 KWh | $21,920 | 8 modules |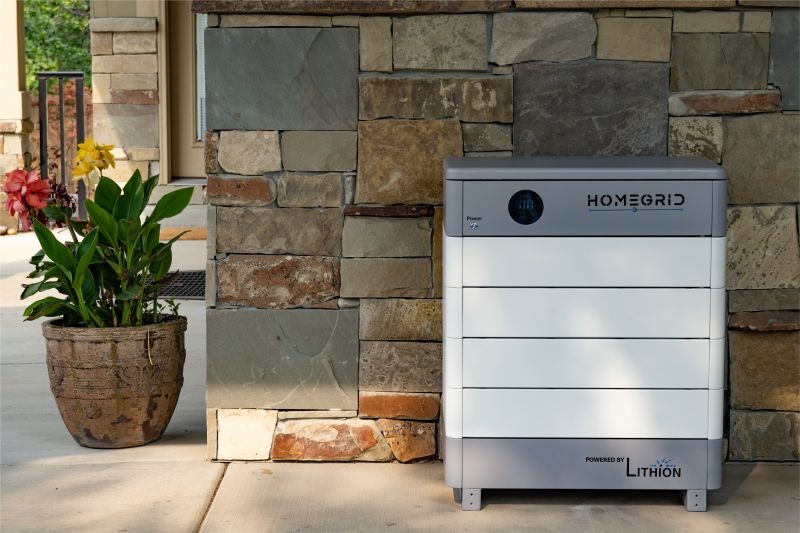 Call for Pricing on substituting the Rhino 14 KW battery bank for the Home Grid 9.6lw above.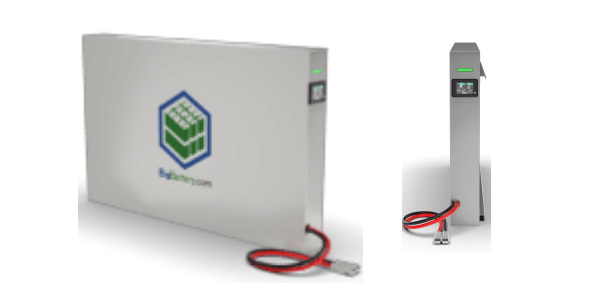 The HomeGrid Stack'd Series offers an ease-of-install, aesthetics, and performance that is unmatched in residential batteries. Each Stack is especially suitable for applications of high power, limited installation space, and restricted load-bearing and long cycle life.
The Stack'd Series has a built-in BMS battery management system, which can manage and monitor cell's information including voltage, current
and temperature. What's more, the BMS can help extend the cycle life by balancing cells during charging and discharging.
Multiple battery stacks are allowed to be connected in parallel to expand capacity and power to meet the requirements of longer power supporting duration and higher power consumption.
Model: Stack'd 14.4kWh (stack of 3 battery modules)
Series: Stack'd
Manufacturer: HomeGrid Energy
MECHANICAL
Type: Lithium Iron Phosphate (LiFePO4)
Dimensions: (W x D x H) 29″ W x 15.75″ D x 30.5″ H
Weight: 325 lbs
Total Battery Energy: 14.4 kWh
Continuous Battery Power Output: 9 kW
Continuous Inverter Power Output: 9 kW
Peak Inverter Power Output: 16 kW
Max PV Input Power: 13 kW
Battery Capacity: 500 Ah
Nominal Voltage: 48 V
Enclosure Rating: IP55
Lifecycles Tested: 8000
Mounting Options: Floor Standing
Certificates: UL 1642, UL 1973
Warranty: 10 years
Scalability: 10 Units in parallel (144 kWh)
Shipping Weight: 410 lbs
Shipping Method: Freight
Features
Lithium iron phosphate battery The lithium iron phosphate battery (LiFePO4 or LFP) is the safest of the mainstream lithium battery types. A
single LFP cell has a nominal voltage of 3.2V. A 51.2V LFP battery consists of 16 cells connected in series. LFP is the chemistry of choice for very
demanding applications. Some of its features are:
• Rugged – It can operate in deficit mode during long periods of time.
• High round trip efficiency.
• High energy density – More capacity with less weight and volume.
• High charge and discharge currents – Fast charges and discharges are possible.
• Flexible charge voltages.
Stack'd Series Features
• The whole stack and each module is non-toxic, pollution-free, and environment-friendly.
• Cathode material is made from LiFePO4 with safety performance and long cycle life.
• Battery management system (BMS) has protection functions including over-discharge, over-charge, and over-current and high/low temperature.
• The system can automatically manage charge and discharge state and balance current and voltage of each cell.
• Flexible configuration, multiple battery modules can be stacked for expanding output and Capacity.
• Adopted self-cooling mode efficiently reduces any system noise.
• The module has less self-discharge, up to 6 months without charging on a shelf, no memory effect, with excellent performance of shallow charge and discharge.
• Working temperature range is from -10 to 55℃ (14F-131F) , (Charging 0~45℃ (32-113F); discharging -10~55℃ (14F-131F) )with excellent discharge performance and cycle life.
• Small volume, light weight, plug-in embedded design modules, are easy to install and maintain.