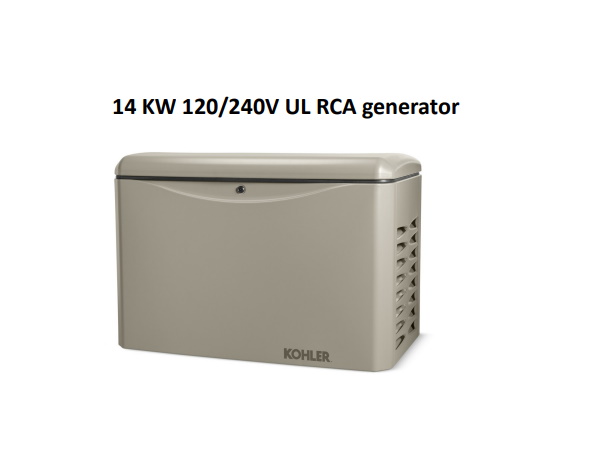 Battery not included, requires one Group 51 size
automotive battery for engine starting.
The 14RCA generator is suitable for most off-grid homes and cabins and is typically paired with an inverter/charger ranging from 4kW up to 10kW in size. This generator package is the ideal solution for adding a generator to one of our off-grid systems.
This package does not include a transfer switch because most off-grid systems use an inverter/charger with a built-in transfer switch for the generator input.
This Generator runs on Propane or Natural gas and will require a pad to sit on and a gas line plumbed to it by the gas company. A power line will then need to be run from the generator to the home servic panel in the house. It will automatically turn on if auxillary power is needed.
Kohler 14RCA-QS is an air-cooled model with a heavy-duty, commercial-grade engine. It is designed for on-grid and off-the grid applications. Use at home or at the work site when utility power fails. In only 10 seconds, this Kohler generator restores power to a 5-ton (60,000 BTU) air conditioner, major appliances, and electronics automatically .
KOHLER STANDBY GENERATOR OPTION
When paired with a Off Grid or Grid-Tied Solar with Battery Backup Package
the Kohler Standby Generator gives you the ultimate in Energy Independence
Kohler 14RCA-QS 14kW Generator Features
Kohler14RCA-QS 14kW 50Hz/60 Hz generator runs on a reliable Kohler CH740 4-Cycle, 20.5 HP, V-2 engine with maximum 3600 RPM. It runs as quietly as an air conditioner at 67 dba. The Kohler Command PRO OHV engine with hydraulic valve lifters eliminates need for lengthy break-in periods and valve adjustments. This dual fuel generator offers advanced voltage and frequency regulation. Excellent power quality protects all valuable electronics at home and at work. 14RCA is ideal for use with computers, laptops, cell phones, and tablets.
DC2 controller has a 2-line backlit LCD screen display that allows you to check the status of the unit and system settings. Check temperature of the engine or the battery voltage or the oil pressure in a wink. With less than 5% THD, this generator is ideal for modern sophisticated electronics with a micro-circuit.
This 3-phase generator has extraordinary motor-starting capacity at 33kVA at 240V. The 3-phase system produces three separate waves of power, delivered in a sequence to ensure a continuous uninterrupted flow of power that never drops to zero. This makes three-phase generators more desirable than single-phase generators.
Kohler 14RCA-QS has a self-ventilated and drip-proof construction. This model can be installed outdoors only. You can install it 18" from a structure. For storm prone areas, use a concrete mounting pad for installation. Buyers get free shipping and free technical support