KITS THAT SELL EXCESS POWER
Looking for Grid Tied Solar and back up Power and your Utility offers "Net Metering" – This might be your best choice.

GRID TIED BATTERY BACKUP SOLAR SYSTEM
with Outback Power Center 
Features
GS4048 Radian Grid Tied Inverter
8 Six volt Crown 48 volt 20.6 KW Battery Bank
10 Trina 320 watt Mono 120 cell Solar Panel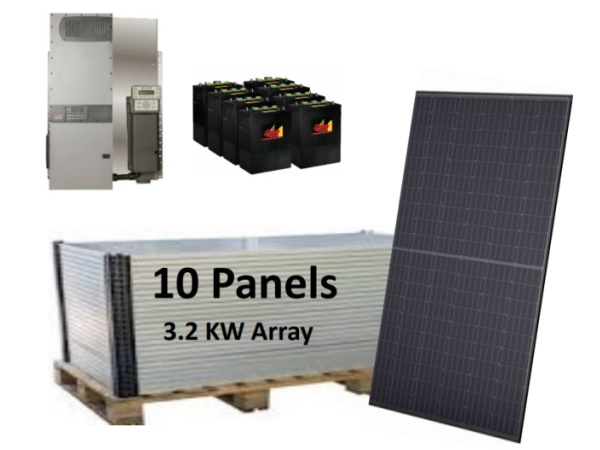 Note: Prices subject to change with products availability
SOLAR POWER DAILY POWER PRODUCTION
ESTIMATE

3.2 kW (10) Panels  (8) Batteries
$16,0166

3.84 kW (12) Panels  (8) Batteries
$17,989.75   

5.12 kW (16) Panels  (8) Batteries
$18,896.00

6.14 kw (20) Panels (16) Batteries
$26,106.00

7.68 kW (24) Panels (16) Batteries
$27,987.65

10.24 kW (32) Panels  (16) Batteries
$31,089.90
SYSTEM DESCRIPTION
3. 05 KW Trina Array Solar Grid-Tied with Battery Backup System The ultimate system for those wanting the Independence "Off-Grid" systems with the benefits of being "Grid-Tied " without the monthly utility bill. Excess energy produced by the Trina Solar panels is sent into the grid to reduce your energy costs. In the event of a power outage, the inverter will switch to power essential appliances such as lights, refrigerator, well pump, cell phone chargers, computers etc from PV and battery bank. This design combines the best of both worlds, reducing your power bill and providing backup power in an emergency. Pre-Wired and Tested for Safe, Fast Installation The heart of this system utilizes cutting edge technology from OutBack Power. OutBack Power's Radian inverter/charger and FM100 charge controller(s) comprise the power center, harnessing energy from your solar array and providing seamless backup power during an outage. The system can be monitored and accessed remotely using Outbacks OpticsRE monitoring platform. Installing your system has never been easier with pre-wired and tested power centers. Experienced technicians have already assembled the inverter, controller, remote control, battery monitor, and necessary AC and DC disconnects for a safe, codecompliant power center ready to hang on your wall. We've also included Unirac roof mount racking, MidNite combiner box, Crown 430a batteries , and the IMO Fireraptor system for rapid system shutdown (RSD), ensuring your system is safe and compliant with the latest codes. See the System Components tab for a complete list of whats included. This grid-tied battery backup package is one of the most sophisticated household renewable energy systems available. Outback Power's advanced technology and pre-wired power center assure a simplified, code-compliant installation with exceptional features.
1 Outback Power FPR-8048A-300AFCI FLEX power Radin Power Center
10 Trina 320w 120cell Mono
10 Fireraptor Single Rapid Shutdown Unit
1 Fireraptor Rapid Shutdown switch
1 Fireraptor Cabling
1 MNPV 12 250 Combiner Box
2 Midnite Solar MNEPV20-300
2 Set of 2 100′ #10 PV wire 50′ red 50′ blk w/mc4's
10 Unirac roof racking Landscape
1 Panel Assembly
2 Two 12′ 2/0 Battery Connection Cables 1red 1 Blk
1 Other Manufacter Solar Waterproof 1 hole Strain Relief
2 1/2″ Strain Relief w/ 1 Hole for #10 or #12 wire
2 Battery Connection Cables 1 red 1 blk
8 Crown Six Volt 430ah Battery
Grid-Tied Solar Power Systems with Battery Backup
Grid-tied solar power systems with a battery backup are also often referred to as hybrid solar systems or as off-grid solar with utility backup power. These combine the best of both completely off-grid and grid-tied solar systems. This flexible system allows you to store excess energy in your backup batteries or send it back to the utility grid during peak hours when you will earn more for the energy you return to the grid (if your utility provider offers net metering).
If you view the information associated with our hybrid solar kits, you can get a clear idea of how much power you can expect each of the systems can provide your home during the summer and winter months. We also offer options suitable for those whose utility providers do not offer net metering. Find a grid-tied solar power system with battery backup today, or contact us for assistance finding one that's right for you.
GRID TIED KITS WITH BATTERIES
THAT SELL EXCESS
SOLAR POWER TO THE GRID
GRID ASSISTED SOLAR KITS
IF you want solar and backup power and your Utility does not offer "Net Metering" – This might be your Most cost effective choice.

PRE-WIRED POWER CENTER
Features
24 Volt Schneider 4024 SW 120/240 Inverter
Trina 320 Watt 120 Cell Mono Panels 980W ARRAY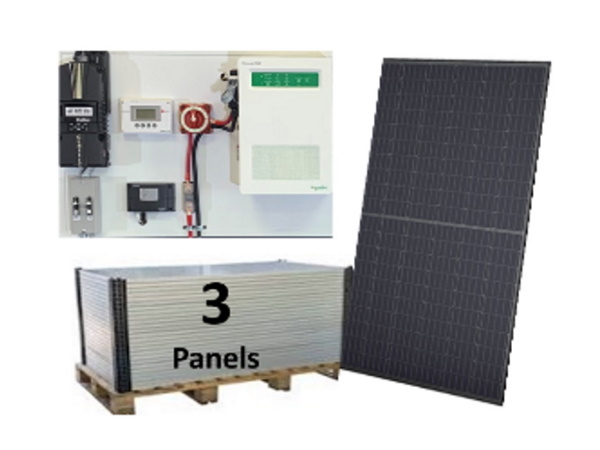 Note: Prices subject to change with products availability
SOLAR POWER DAILY POWER PRODUCTION
ESTIMATE

0.960kW (3) Panels
$4,853.75

1.83 kW (6) Panels
$6,130.40

2.75 kW (9) Panels
$7,312.40
SYSTEM OVERVIEW
Sized for a Small Weekend Cabin and able to produce 5.5 kw daily or up to 170kW-h each month in summer. This system will provide sure sine-wave AC power to your appliances including:
Refrigerator
Well Pump
Microwave
Television
Freezer
Lights
Washer & gas dryer
Furnace blower fan
Power Tools
Computer
SYSTEM DESCRIPTION
Conext SW4024
This off-grid or battery inverter will deliver 3,800 Watts of pure sine-wave power at 120/240VAC making it great for homes or cabins. Schneider's line of SW inverters have built-in chargers to keep your battery bank charged from a generator or other AC power source. The SW line of inverters are a great value, with an impressive list of features and sell for hundreds less than the competition.
120/240 volt AC power
This off-grid inverter will deliver full power to a 120/240 volt breaker panel without the need for an additional external transformer. For additional information please see the spec sheet and user manual or call one of our sales technicians at 1-989-737-4078.
Advanced Grid Features
The Conext SW inverters incorporate advanced features for modern grid-connected systems. The Conext SW inverters are consumption ready with the ability to prioritize solar consumption over grid, while maintaining zero grid export. The Conext SW can work with the grid to avoid peak utility charges and support the grid when utility supply is limited.
SOLAR CHARGER MIDNITE CLASSIC
• MidNite Classic 150 MPPT charge controller 
• Simple, safe installation 
• MidNite Whiz Bang battery monitor provides  percent state of charge via the Classic display screen 
• Color coded and labelled buss bars for all connections 
• Fully assembled and tested by experienced technicians  
Generator Capability /Option if Chosen:
Pre-Wired Generac Generator w/Auto Start Option In the event of insufficient sunlight and low battery voltage. The generator will auto start, feed loads while charging batteries and shut off when batteries are full. Call Suntec Wind & Solar for more details.
1 Schneider 4024 240VAC Inverter
1 MidNite Classic 150 Sl Mppt charge controller
3 Trina 320W 120 cell Mono
1 Schneider system control module
1 Blue Sea Battery Disconnect
1 Blue Sea Mega Fuse holder
1 300 Amp fuse
1 big babybox breaker box
3 DC breakers
1 100 feet #10 PV wire 50′ red 50′ black w/mc4's
3 Unirac roof racking for 3 panels
1 Panel Assembly
2 Two 12′ Battery Connection Cables 1 red 1 black
1 Wiring diagram
Easy fast online support from our staff
Off-Grid 24V Solar Power System Packages
Our selection of off-grid 24V solar power system packages are excellent options for providing power to remote cabins and small to midsized homes. These 24V solar system kits are designed to power all of the household electronics you own, including refrigerators, personal computers, well pumps, television sets, microwave ovens, washers, dryers, power tools, your furnace's blower fans, and more.
Visit each 24V solar system kit's page for rough estimates as to how much power they can generate in the winter and summer months so you have an idea of what each system can offer you before you make your decision. If you still need help determining which 24V solar power system package is right for you, contact us today.
GRID TIED KITS WITH BATTERIES
THAT USES THE GRID
TO ASSIST KEEPING BATTERIES FULL