24 volt Off-Grid Inverter Systems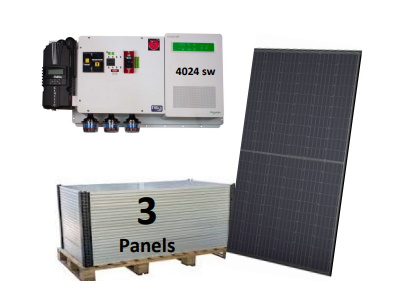 4000 Watt
4024 SW Schneider Inverter
.915 KW 3 315w Panel Array
SOLAR POWER DAILY PRODUCTION ESTIMATE
| | | |
| --- | --- | --- |
|    SUMMER |         5.57 |         KWh |
|   WINTER |         2.16 |         KWh |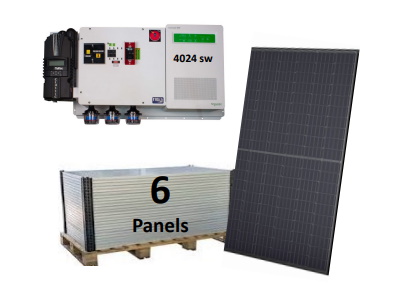 4000 Watt
4024 SW Schneider Inverter
1.83 KW 6 315w Panel Array
SOLAR POWER DAILY PRODUCTION ESTIMATE
| | | |
| --- | --- | --- |
|    SUMMER |         11.14 |         KWh |
|   WINTER |         4.32 |         KWh |
Grid Assisted Solar Power System Packages
Our selection of Home power centers using Schneider SW inverters are perfect for grid tied home systems where the owner wants to lower the monthly utility bill and ensure that certain "Critical Loads" have power, even in the event of a Grid outage.
These solar Power Centers are designed to power many or most of the household electronics you own, including refrigerator, personal computers, well pumps, television sets, microwave ovens, washers, dryers, power tools, furnace's blower fans, and more.
The Schneider Sw series of Inverters will use solar and battery power to power your critical loads and In the event solar conditions are inadequate tp keep the batteries charged the Inverter will automatically allow power to come in from the grid to power the loads while it brings the battery bank back to full charge after which the Inverter will resort back to solar and battery bank.
Visit each systems detail page for estimates as to how much power they can generate in the winter and summer months so you can determine which system is right for you.
Call us direct at 989-737-4078 for help determining which solar power system package is right for you, contact us today!